Famous for its unique culture and Asian nature, Malaysia has always been a destination that attracts many tourists. In addition to enjoying the beautiful nature and unique cuisine, visitors also have the opportunity to discover the unconventional street art in Penang.
Small city Penang – Malaysia is not only known as a place with many delicious street food but also a famous place with lots of creative murals.
Penang's capital is the convergence of long-standing cultural and historical elites along with Malaysia's extremely valuable architectural heritage system. Unlike the old-fashioned appearance of George Town, street art has only been developed at Malaysia Penang resort in recent years.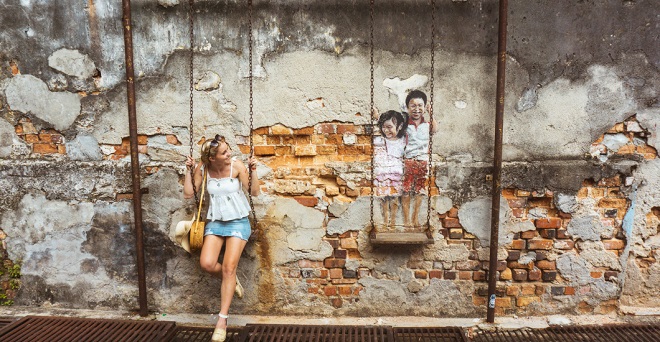 Since George Town was honored to be recognized by UNESCO as one of the World Cultural Heritage in 2008, the Penang government has decided to offer a variety of street art projects called "George Town Creation". "To blow a new wind into this ancient tourist area.
In 2012, Ernest Zacharevic – a Lithuanian talented painter, was invited by the Penang government to paint a painting project of a small scale to commemorate the Penang Festival. A special feature is the works of wall paintings created by Zacharevic not only as simple and cliche images but also with many unique meanings.
One of the top places chosen by tourists to check in is Zacharevic's painting "Cyclists" on Lebuh Street Victoria. The mural depicts a vivid image of a young girl driving a bicycle in an old alley, behind her small brother clutching her.
A special feature of this work is the bicycle that the two children sit is a real bicycle that the artist Zacharevic cleverly leans against the wall. Visitors here often take advantage of this bike to have extremely virtual and impressive check-in photos.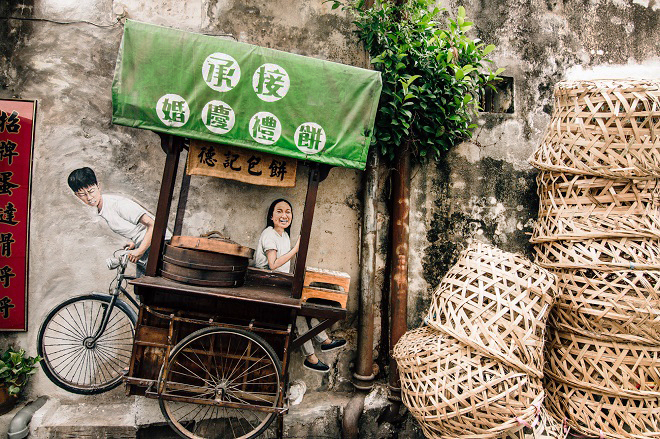 "The two siblings play swing" is also an equally famous painting at George Town. Just like "The kids who ride bicycles", "The two siblings play swing" is also a fine art work that is cleverly combined between mural art and real objects. Visitors can sit and pose on the real swing right next to the painting of two children playing extremely happily.